[The Montana Professor 21.2, Spring 2011 <http://mtprof.msun.edu>]
Teaching Too Tame? Go Climb Rock Faces with Steve Mock
O. Alan Weltzien
English
UM-Western
a_weltzien@umwestern.edu
s_mock@umwestern.edu
—Krishna Gopal Shrestha & Steve Mock;
Khumbu Valley, Nepal, Mt. Everest in background.
Photo: Rob Thomas.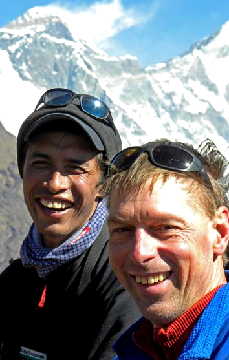 Steve Mock, the University of Montana Western's longtime chemistry professor, likes mountains. A lot. He pours over maps and route descriptions and when he draws close to rock faces or snow gullies, his eyes study details as he picks out a good line and assesses likely conditions. He looks for cracks, possible handholds and toeholds, and weighs potential risks against the anticipated pleasures of that line. With snug helmet and rock shoes, and sporting a rack of gear ("pro" or protection) on slings circling his torso, he lead climbs with confidence and apparent ease. Like any professional, Mock makes it look easy. Six feet tall and barely 160 pounds, his arms and legs extend smoothly as he moves up a face. For decades Mock has been—to quote Joseph E. Taylor III's recent book title—a "pilgrim of the vertical."
Though climbing has been his longtime avocation, for the past eighteen years Mock has made rock faces his classroom as well. By the time Mock arrived at the University of Montana Western in 1991, he had taught high school science for five years in Lima and Clyde Park, Montana, and Hollidaysburg, Pennsylvania. He taught chemistry at Gonzaga University in 1989-90 and worked in industry the following year, in Billings. During the spring of his first year at the Dillon campus, Mock taught his first basic rock climbing class, and he hasn't looked back since then. After a few years he switched the class to autumn because of more stable weather conditions in September and October. He added intermediate and advanced classes, and one winter, taught an ice climbing class as well. For eight or nine years, he also taught a winter camping class, in which he taught skiing and camping in a cold environment. Mock takes advantage of Dillon's proximity to the Humbug Spires, about midway between Butte and Dillon, though he climbs more often in the nearby East Pioneers. The granitic upthrusts of Humbug Spires, part of the Boulder Batholith, represent some of the best rock climbing in southwest Montana. Over the years, Mock has developed a reputation not only as a first-rate climber, but as a fine climbing teacher.
Born in Pennsylvania and raised in Indiana, Mock and his wife, Jan, moved to Montana in 1978. They had never seen serious mountains before. The following summer, they drove north through Jackson Hole with their infant son, Josh. The Tetons, especially the Cathedral Group, shone in clear air and Steve pulled over so he could get out and fill his eyes. He has never recovered. He vowed then to learn to climb, as he planned to climb all the Tetons. Mock took his first climbing course, an intensive one-day affair, from Exum Guides in 1981. The next few years, he took three more short classes. He and his younger brother, sociology professor Alan Mock (Lakeland College, Wisconsin), wanted to tackle the Grand Teton in 1981 but concluded they were too busy. They used the same excuse the next three summers until, by 1985, they decided to make it a priority. Over five days, the Mock brothers climbed Symmetry Spire (Durance route), Disappointment Peak (East Ridge), and the Grand Teton (Upper Exum). After that summer, climbing loomed larger in his life. In the next twenty-six years, he estimates he's climbed the Grand two dozen times via at least one dozen routes. In 1988 alone he climbed it eight times, including one winter ascent. And he has fulfilled his 1979 vow and climbed the range. Mock got good quickly, as though his hands and feet had discovered a new natural language.
The same year Mock reached the summit of the Grand the first time, he entered MSU-Bozeman's doctoral program in chemistry, which occupied him the next four years. When he wasn't working in labs or skiing or playing with his son or daughter, Suzanne, he climbed. Mock first ice climbed in 1987 and discovered a passion for that equal to his rock climbing. Bozeman a generation ago boasted an extraordinary number of Olympic-level mountaineers, bikers, and other extreme sports enthusiasts, like Boulder or Seattle. Bozeman still has this reputation. Mock regards MSU-Bozeman's Pat Callis, chemist and virtuosic climber who helped invent modern ice climbing, as his mentor in the mountains. In those days, a couple dozen serious alpinists lived in or around Bozeman, and Mock "worked his tail off" to be part of that elite group. He climbed with the late Alex Lowe, a world-famous climber and personal friend. By now, Mock is "one degree of separation or less" from any number of famed climbers.
His talent and determination took him farther afield from Montana. In 1989 he and climbing friend, Paul Sturman (Bozeman—another MSU Ph.D.), climbed Mt. Rainier via the famous Liberty Ridge Route. That same summer, he reached the Canadian Rockies for the first time. Mock estimates he has climbed in Alberta—winters and summers—about twenty times. In June 1990 Mock, with three partners (including Sturman), successfully climbed Denali: at just over 20,000', it was the coldest and highest mountain he'd summited. After Denali, Mock realized he "could do this stuff." He has climbed elsewhere in the Alaska Range. In December 1997-early January 1998, Mock and another climbing partner, Brian Cabe (another MSU graduate), summited Aconcagua, on the Chile-Argentina border and the Western Hemisphere's highest mountain. This climb proved a mental more than physical endurance contest, as high winds buffeted them fifteen out of seventeen days on the giant mountain. Mock has "always taken a systematic approach" to climbing, whether for a weekend at City of Rocks in south central Idaho, or departing on an expedition climb.
Mock credits his success in climbing and in life to his wife, Jan, a music educator and elementary school librarian. Jan remains his best friend and cheerleader who encourages his trips, helps with the all the logistics and cleanup, and tolerates his frequent absences with steady composure. Some years ago, Jan started accompanying him to City of Rocks, and has become an able rock climber herself.
Trying to define his passion for climbing, Mock describes it as the "ultimate combination of mental and physical and psychological." He craves, as do other climbers, the condition of being "totally focused on the moment," that condition of total concentration whether placing a piece of "pro" or double checking a "belay" or a lot of other things. Mock talks familiarly about "quick draws," "jumars," "biners and prussiks." The vocabulary of climbing doesn't sound arrogant, coming from him. He points out that in climbing, "the potential penalty points change the nature of the game." The possibility of serious injury or death lends climbing its own unique, intense aura—and attraction. He cites Ernest Hemingway's comment to the effect that there are only three sports: auto racing, bullfighting, and mountain climbing, because in these three, the risk of death is big. The rest are games. Hemingway's arrogant claim amuses Mock. Mock concedes that there are plenty of easier ways to gain an adrenaline rush, but being on steep rock or snow or ice, being in the mountains and on them, gives him pleasure as does nothing else. He is equally at home on high-angle rock-and-ice or on big walls, and has pitched his port-a-ledge partway up some big walls in Zion Canyon, for example. About Zion's Moonlight Buttress and other big walls (e.g., Yosemite), Mock admits, "a lot of people don't like the industrial nature of walls, but at the end of the day when you have your boots off and are eating Pringles and drinking a warm beer with your feet off the ledge, life is all right."
Mock is a self-deprecating, witty man who also happens to be a master teacher. He loves telling stories at his own expense or roasting friends, and his chuckle quickly shifts to hearty laughter. A cynic by nature, Mock uses humor to sustain his balance. By this stage of his career, he finds few chemistry students to mentor, as UMW has no chemistry degree or program; in rock climbing he finds self-selected students taking an elective and looking for a new kind of adventure. He loves sharing climbing with excited students and loves opening them to a lifelong outdoors sport, one that extends beyond active football or basketball years. He tells them that climbing is "just like fun, only different." His best advice? "trust your feet." Those with talent continue to climb and improve, eager to tackle 5.9 or 5.11 routes with him. For those individuals, Mock knows he has changed their worlds and infected them with the same high-angle passion that has consumed him for three decades. He warns them, "school and work always get in the way of good climbing." He knows.
This writer took all three rock climbing classes as well as the ice climbing class Mock taught, and knows first hand Mock's gifts as a hands-on teacher. He continually teaches care and prudence, habits of continually checking equipment, so that newer climbers learn discipline along with climbing's peculiar adrenaline rushes. Students learn simple commands, proper "belaying" and "rappelling" techniques, how to move up stone with grace. In the advanced class, students learn to "lead climb" and "place protection," belayed from a "top-rope." This technique is called a "mock" lead. Really. With Mock belaying, students feel secure and through that security, learn the acute intimacy of climbing with a partner (or more) united by that rope—literally a lifeline, often a palpable signal. After eighteen years, Mock estimates that he has taught climbing to about 150 individuals, some of whom have also become "pilgrims of the vertical." In the 2010-11 academic year, climbing students at UMW founded a Climbing Club. During their March 2011 spring break, nine of them travelled to the Red Rocks, west of Las Vegas, for a week of rock climbing. Mock joined them there.
For the intermediate class's "final exam," Mock hikes the group three-and-a-half miles into Humbug Spires, to the base of The Wedge, largest monolith in the area. The class tackles a 5.8 route called Butterknife (which begins on another route called Southwest Chimney): a five-pitch climb whose final pitch (i.e., rope length, a standard measure in climbing) involves a slight "downclimb" then traverse onto a broad open face approaching eighty degrees, and hundreds of feet above ground.
One of his best student climbers, UMW senior Katie Redfield, testifies to Mock's talents as climber and teacher: "You think he's OK when you watch him climb a 5.7 for the first time but then the way he climbs never changes as he ascends a 5.10c route. That's why he's so good. I also have never seen someone so precise with his feet and so completely aware of what he is capable of. He knows exactly what he can do. He also knows exactly what I am capable of, even if I don't, which is why he is great as a constant teacher and someone to go do big things with. He has amazing faith in you."
Three years ago, Mock's reputation as a climbing instructor landed him a spot in Nepal. The Khumbu Climbing School (KCS)—now called Khumbu Climbing Center (KCC)—was founded (2003) by Conrad Anker and Jenny Lowe-Anker, a pair of very famous Bozeman-based climbers who happen to be personal friends. KCC has offered an annual climbing course since 2004. The KCC is funded through the Alex Lowe Charitable Foundation. For generations the Khumbu region in Nepal has attracted a steady stream of trekkers and climbers from all over the world, as Mt. Everest looms over the valley's head. Most of Nepal's high-altitude climbers and porters hail from the Khumbu, and most of them are Sherpas who practice Tibetan Buddhism. They speak Nepali as well as Sherpa; a few of the old ones speak only the local language. Before KCC, Sherpas climbed without formal instruction but they climbed anyway: as guides and porters, they could earn far more money than in any other way in the Khumbu. Other than guiding or serving as porters, local Sherpas herd yaks and grow potatoes, cauliflower, spinach, and radishes, or work as woodcutters or stonemasons.
Because of the steady flow of international visitors, the Khumbu is the least impoverished region of this extremely poor mountain country. One sees both decrepit, crumbling buildings and spanking new guesthouses. Given Nepal's high infant mortality rate, life expectancy falls below sixty. Sherpas live and work outside; while fit and eager, they are not necessarily natural climbers. KCC runs its climbing course in January because that is low season; spring and fall are the climbing seasons, and in summer, monsoons buffet the range. KCC is headquartered in the village of Phortse which, at 12,500', squats just a couple of miles off the main trail to Everest base camp. Many Sherpas in Phortse have climbed Everest repeatedly. While not as cold as southwest Montana in winter, Phortse is cold enough that good ice as well as rock climbing locations exist nearby. In the Khumbu, however, there is little heat inside buildings, and little level ground. So one warms up hiking uphill, which happens several times a day, and crawling into one's four-season sleeping bag at night. There is no hot water except for tea and other hot drinks. Only fires.
For a climber of Mock's ability, the highest mountain range on earth incessantly calls. In the 1980s he was already thinking about the Himalayas. He knew climbers heading over and received some invitations, but various factors—family, grad school, cost, for example—prevented his going back then. By spring, 2007, though, Anker and Lowe-Anker, who knew Mock as a climber and climbing teacher, had tapped him for the KCC staff. In January 2008, he joined about fifteen other Western instructors in Phortse for the Basic climbing class. Particular Sherpas who proved the quickest and most talented climbers assumed the role of assistants. In January 2011, about ten Westerners were scheduled to supervise the Nepalese (i.e., mostly Sherpa) instructors, but bad weather precluded half of them from participation. Mock served as Director of the Basic class and was a lead instructor (along with four other Westerners) of the Advanced climbing class that followed. He was first served at mealtime, and coordinated the work of the other instructors.
The failure of five Westerners to reach Phortse in time for the classes requires some explanation. Katmandu, in the early 21st century, sprawls without infrastructure, a city of 6,000,000. One colleague stated, "the only difference between Katmandu and Port-au-Prince is one earthquake." From Katmandu, one waits for a good weather window and flies, on one of three domestic airlines, on a flight lasting less than an hour to Lukla (9000'), which boasts a stubby runway no longer than 400 yards. One grips the armrests during landings and takeoffs. Sometimes many days pass before flights to Lukla open. To walk requires seven-ten days. From Lukla, it takes three days of ascents, descents, and more ascents to reach Phortse more than half a mile higher. Phortse boasts two guesthouses involved with KCC from its beginning, in one of which, Namaste Lodge, Mock boarded both winters. Each climbing course begins with a blessing ceremony conducted by a local priest. During the graduation ceremony closing the Basic class, the faces of the participants shine with pride. Mock has come to know most of them individually, and by now counts a couple dozen friends in Phortse.
During the few days between the Basic and Advanced class, Mock, along with superstar climber Steve Swenson (from Seattle), tackled Losar, one of the five top-rated ice climbs on earth, first climbed less than twenty years ago. Losar is a fourteen-pitch climb, approximately 2300' of near-vertical ice. They climbed for twelve hours and, reaching the final two pitches (also the hardest), decided to rapel off during the gathering darkness. They climbed Losar on Losar, which is Tibetan New Year.
In May 2011 Mock returned to Nepal for a month, in the company of his climbing brother, Alan, and another partner. The three tackled Lobuche East, a 6119-meter peak that rises right next to Everest. And Mock will again serve as KCC Director in the winter of 2012. He has high hopes for future Sherpa students and future climbs. Not many individuals fuse a talent for climbing with a talent for teaching as thoroughly and gracefully as Mock. When he yells "Climb on!" from above, a student reaches eagerly, hoping to imitate some of his skill and discover some of his passion for steep faces in the mountains.
[The Montana Professor 21.2, Spring 2011 <http://mtprof.msun.edu>]
---
Contents | Home