[The Montana Professor 23.2, Spring 2013 <http://mtprof.msun.edu>]
Transforming a Rape-Prone Culture: Community Change in Cyber Space
Danielle F. Wozniak
Assistant Professor of Social Work
University of Montana-Missoula

Christine Fiore
Professor of Psychology
University of Montana-Missoula

Elizabeth Hubble
Adjunct Assistant Professor of Women and Gender Studies
University of Montana-Missoula
This past year, the nation read gut-wrenching stories about victims of rape and sexual assault at colleges and universities. We dealt with this tragedy at The University of Montana where our students experienced sexual assault, rape, and gang rape. While rape has been historically a private matter, shrouded in a victim's shattered sense of agency or relegated to the margins of campus life, this year victims' experiences were brought into sharp focus in the national press. News stories consistently portrayed victims' experiences and their struggles to deal with the ravages of trauma. But describing and understanding are separate things and often media descriptions of the issue obviated the latter. Even with the nation's gaze trained on Missoula, Montana, we failed to see rape as a national issue woven into the fabric of our society. By describing rape as a crime involving only two people, too many of us ignored the reality that rape is sustained by every member of a community. There is good news and bad news in this broader understanding of sexual violence, and they are part of the same picture. If rape emanates from our communities, then the problem goes far beyond micro-level explanations based on relationships between men and women. Rape occurs in our communities because sexual violence is not just normed, but it is accepted and supported by each one of us. The good news is that we can do something to create dramatic change. We can change the norms and alter the culture.
Dynamics of college-based sexual violence
The behavior leading to rape and often rapes themselves on college campuses are hidden in normalized milestones of college life—drinking, dating, and sexual experimentation. This can lead to conflation errors that impede understanding and hinder intervention. These activities are not the cause of rape; they are a part of it. According to the AAUW, 95% of all sexual attacks on college campuses go unreported, making sexual violation a "silent epidemic." The Center for Disease Control tells us that 1 in 5 women in the United States has been raped and significantly more than half have been raped by an intimate partner or an acquaintance. More than 79% of these victims were raped before their 25th birthday./1/ A conservative estimate from the AAUW suggest that 3% of college women nationally are victims of rape. The National Institute of Justice points out that 3% doesn't sound like a staggering number until you think about it this way: For every 1,000 women attending an institution of higher education there are 35 incidents of rape in a given academic year. For a campus with 15,000 women, this would mean the number of rapes could exceed 450. When projected over the nation's female student population this means several million—a number that most would say is very disturbing.
In cases of college rape, 90% of women know their perpetrator, and 75% of the time, the offender, the victim, or both have been drinking./2/ This is significant because men are more likely than women to assume that a woman who drinks alcohol on a date is likely to be a willing sex partner. Forty percent of men who think this way also believe it is acceptable to force sex on an intoxicated woman./3/ Then there are statistics that raise questions about students' understanding of sexual norms, their beliefs about intimate relationships, and the nature of rape itself. For example, in one study of college age dating behavior, 43% of men said they used coercive behavior to have sex (including ignoring a woman's protest, using physical aggression, and forcing intercourse) but did not admit that it was rape./4/ Seventy-one percent of rapes are planned in advance./5/ Almost 50% of women who were raped on college campuses did not consider what had happened to them rape, even though their experience met the criteria for rape./6/ Of college women who were raped, 42% expect to be raped again./7/ These statistics suggest that for too many college students rape is a normalized part of campus culture.
This is corroborated by statistics from the Center for Disease Control, the FBI and the National Institute for Justice, making sexual assault a macro-level issue that women across our country and around the world face on a daily basis. We live in a society where violence against women is minimized, silenced, and ignored, and women are often unjustly blamed for complicity in rape—a society that many scholars term a rape culture or a rape-prone culture. As Walter Moseley and Rae Gomes recently posted on The Nation website, "Rape culture exists because we don't believe it does. From tacit acceptance of misogyny in everything from casual conversations with our peers to the media we consume, we accept the degradation of women and maintain that uncontrollable hyper-sexuality in men is the norm"./8/ The national press coverage of the issue of sexual assault at UM and in Missoula too often supported these perceptions. Media suggestions that something is "wrong" with Missoula or with the University of Montana are an aspect of rape culture because it shifts the blame from the social and political inequalities that women and other marginalized groups face in our culture to arguments that there are just a few crazies out there at that college or in that community, and if we could just get them off the streets (or as the "Jezebel" website suggests, don't go to Missoula, Montana/9/), all will be well. But it won't be, and that's because the issue cannot be dealt with on the micro level. It is a public health issue and needs to be addressed through public awareness, understanding, and education, culminating in intentional social action and culture change. With this in mind, we decided to program a novel approach to transforming our campus culture.
Education and change
Utilizing a public health strategy aimed at creating a social climate within which anti-violence attitudes and pro-social behaviors could flourish, we designed and implemented an educational tool: Personal Empowerment Through Self Awareness7mdash;or simply PETSA—an online educational and public awareness intervention that, within a few weeks, reached every single member of our campus community.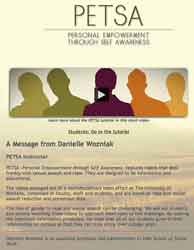 Screen grab from PETSA website.
The tutorial, tailored to the needs of our students and delivered in a series of videos, presents the legal and educational consequences for committing sexual violence by shifting the paradigm of rape from that of an unfortunate but natural extension of sexual activity on college campuses to criminal and morally offensive behavior. After beginning with the legal definition of rape in Montana, the narrator calls students' attention to their responsibility to recognize and respond to verbal and non-verbal cues in sexual negotiation. This de-naturalizes one-sided sexual negotiations in which men pressure women for sex and places responsibility for social intelligence on all parties, including bystanders. The tutorial also offers a template for thinking through the moral imperatives of adulthood premised on reflection that exposes equivocation. We also address myths about sexual assault that provide a defensive screen behind which perpetrators hide to escape responsibility.
While the first iteration of PETSA is not perfect, our goal has been to make rape prevention a center-stage priority across our campus, to provide the opportunity to wrestle with beliefs, values, and attitudes about gender and power relations, to educate our community about the nature of sexual violence and how we might all play a role in reducing it. Our intent was to create portals of interaction with the material in cyber space that could lead to transformational activities within our community. For example, it is very difficult for a 20-year-old to initiate conversation about sexual assault. It's hard to find words to actually get the conversation going—"Hey, let's have a cold one and talk about rape." But students could talk about PETSA and the information they received. We have heard of students discussing PETSA in their classes, joining faculty and staff for regularly scheduled face-to-face discussions, emailing and calling with questions, writing about the tutorial in the campus newspaper, and discussing the content while playing Frisbee on the campus lawns. An online experience was creating an off-line analysis; an online tutorial was creating space for face-to-face discourse.
We expected that making the tutorial mandatory and having it directly confront entrenched behaviors would cause resistance. We were partially correct. With a 4 to 1 positive response to the online tutorial, we clearly struck a chord when we asked for a community response to the problem. However, several students claimed that the tutorial violated their rights. Others insisted that we got our statistics all wrong, making the tutorial invalid. About a dozen other students insisted that since they "weren't the cause of the problem," i.e., not rapists, they should be exempt from the requirement. Part of our work was to talk with all of these students and engage them in a process where they wrestled with their beliefs about dating, drinking, and sexual consent. Indeed for some, working through questions about how rape happens, having doubts about the statistics in the videos, and disbelief that this was an issue on our campus provided points for critical thinking about the issue. To assist this process we answered each email, returned every phone call, and invited all students to think with us about the informational material.
For other students the online material triggered emotions stemming from personal experience with sexual violence, either their own or knowledge of someone else's pain. These students often reacted angrily to the tutorial only to have their offense transformed in subsequent communications into rage, bitterness, and helplessness about the culture of rape in general. For these students we offered support, referral to services, the assurance that they were not alone, and an invitation to collaborate with us as active agents of change on campus. This became an important part of individual and social transformation. Students, disempowered and silenced through victimization, found a way to heal that benefitted our entire community.
We were also steadfast in our requirement that all students become educated about rape since the idea that intervention should be targeted only to perpetrators and/or victims removed the responsibility everyone bears to create a violence-free campus and a changed culture. More than just our idea as sexual assault prevention directors, the program became an administrative imperative. University of Montana President Royce Engstrom introduced the tutorial with this message:
Sexual assault, rape, partner violence, stalking, or sexual harassment can happen on any campus, and they have happened on ours. It is a tough topic to address, but it is an important one. The University of Montana is maximizing its effort to provide a safe and healthy environment for everyone. Let me be clear. Sexual violence of any type will not be tolerated on our campus, and those who engage in this predatory behavior will be held accountable.
When numerous non-traditional students called our office to say, "This tutorial really isn't about me," we told them they were correct—the tutorial was about us because we all share the obligation and responsibility to hold each other accountable for our individual and collective safety. Thus, another change the tutorial demanded was action against inertia and the collective desire to shrug shoulders, look away, remain silent, or not pay attention at all. We responded to student fatalism—expressed through statements like, "If students want to rape, you can't stop them," and "A twenty-minute video won't stop someone from raping"—by highlighting the obligation each member of our community has to prevent rape.
Distance technology in service of social transformation
While institutions of higher education have contributed much to what we know about the impacts of sexual violence, universities must also work to create citizens who address what such knowledge demands: social change. We do this by providing transformative educational experiences for all members of our community. As an on online tutorial, PETSA is a catalyst for social and individual transformation blending distance education that engages students psychologically and intellectually by challenging their beliefs and practices relative to their social relationships with face-to-face interaction and opportunities for discourse and social action. Most distance education is considered transformative through its immediate, interactive features that allow individuals within a learning community to connect their ideas with others' to produce new knowledge which is then integrated into the collective thinking.
Our experience suggests that this paradigm, when applied to thousands of students and aimed at changing community norms that alter individuals' notions of what is normal, right, and acceptable, may provide even greater opportunity for transformation. We found that by offering critical information to all members of our community simultaneously, we created a collective scaffold upon which subsequent thinking, conversations, assignments, ethics, and above all, actions could be built. The information we presented amplified the voices and realities of those calling for change, and through the opportunity for discourse provided a template for dealing with the nuanced, complicated, and life-changing issues of the adult world. As we administered PETSA we were bombarded by calls from students who told us they not only wanted to do something but also wanted our help. Students joined advocacy groups, enrolled in classes on violence, brought to their classroom assignments a focus on sexual violence, conducted social action research, analyzed the impact of PETSA through educational analysis models, interviewed us and their peers, conducted studies, wrote position papers and articles for the newspaper, and produced movies and videos. In short, they got involved in culture change.
While we listened carefully to voices of protest since it was these points of contention against which we measured the success of our change efforts, we found that the majority of the voices we heard were from students who supported what we had done. Many of these voices were from women, now approaching the majority at college campuses across the U.S. Many simply said "thank you." Others said things like, "I was so relieved to see this expressed." And "after completing this tutorial I am grateful. This is what our community needs." Another woman pointed to the realities of dating: "I am so glad we had PETSA [because] there is so much pressure to accept the predominant anti-women view of sexuality and dating." This was one discourse we had hoped for, and it is discourse that needs to be heard, amplified, and normalized. Research suggests that anti-violence attitudes are not acted on when people think their attitudes are in the minority. Women's voices are not the minority; voices calling for healthy, respectful relationships are not anomalous. Amplifying these voices shifts the center of discourse and necessitates a realignment of educational priorities. One young woman told us, "This is my life. I deal with these issues every day." Shouldn't we all? Doesn't this reality belong to all of us? Another student, in response to a victim's story in the press wrote, "Battling rape is one of the most important fights on college campuses." She is correct. Shifting power, challenging the status quo, redefining acceptable gender relations, dispelling reductionist myths that sustain inequity, and dismantling misogyny in policy and practice are important battles. We as educators and institutions must take this fight on as one of our most important educational battles of the 21st century because it allows us to take an active role in creating change in this century. Doing so with online technology that allows us to reach all students simultaneously is part of educating for the future.
---
Notes
[The Montana Professor 23.2, Spring 2013 <http://mtprof.msun.edu>]
---
Contents | Home